Reading Time:
2
minutes
Early this year, I shared this post :
This month a few of the long standing volunteers of our network are getting together to try and re-energise some elements of our community activities. Whilst much has happened over the past few years, activities like the curation of our twitter account and amplifying the posts tagged with the #femEdTech hashtag have been difficult to sustain.

https://femedtech.net/published/care-and-curation-femedtech/
Since February then, each month for me started with #FemEdTech, first stepping back into the role of curator myself and also working together with other volunteers to set up a sustainable workflow that would enable others to get involved once again.
During the course of the year, we updated the information to get involved and the form to sign up, which, if you haven't yet come across it, is available on the FemEdTech Open Space.
in April, our first official 'guest' curator took the the helm (thank you, Anne-Marie, for being our trailblazer this year) and from then on all months except for June, when I was back in the curator slot, were led by members of the community: Giulia, Clare, Sarah, Catherine, Leigh and Dani, handing over to Lorna just yesterday.
It was amazing to see individuals giving time and energy once more, to reinvigorate our corner of a social media platform which turned increasingly toxic as the year progressed. Maybe, in future our conversation may move elsewhere, but for this year, our network came back together around the #FemEdTech hashtag. And what a year we had.
Head over to what's been published on the FemEdTech Open Space and be inspired by the thoughts shared there: reflecting on collective voices, claiming open education as a feminist space, a pedagogy of cake and… the momentus moment at which many of us were able to meet the FemEdTech Quilt in person for the first time: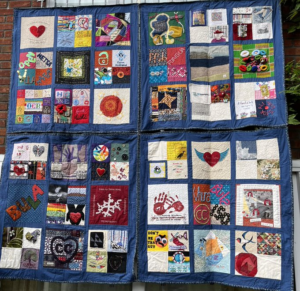 Head over to Flickr to see the photos from the event (this image is by Frances Bell on Flickr) and read more about this wonderful project in the blog post.
It was a wonderful day which infused me with hope and gratitude and joy, and reminded me of the power of this community and the #femEdTech network and why I contribute.
Handing over lead curation
Since January, I have enjoyed acting as lead curator, and now I am grateful to hand over this role to Lorna, who will be at the helm of supporting guest curators for the next period. It's fantastic to see that after the unavoidable hiatus in 2020/21, the conversation has been re-energised and continues to connect and amplify voices.
I am already looking forward to signing up for a curation slot in 2023, and to see where our conversations lead us next year, on Twitter #femEdTech and maybe elsewhere, too.
Posts from my previous stints as a curator
Previously published at https://marendeepwell.com/?p=3682